Electricians Tool Bag
if you are an experienced electrician, help us add tools to our Electrician's Tool Bag. Any equipment you believe is require along with some items that you have found to be handy over the years.
If you just starting out, this may give you a good idea to start building your tool bag and maybe save some money.

6
Robertson Head Screwdriver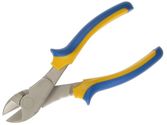 16
Ratcheting Cable Cutters